One decade world class: Norway celebrates EM titles


Amsterdam, 21.12.98 (dsf.de)
When captain Kjersti Grini strained the European " victory dish " at 20.58 o'clock into the sky, Norway was recompenced for one decade world class hand ball.
After five victoryless Finals with international title fights the " Norge team " won the first title on Sunday in Amsterdam finally. Coach Arne Hoegdahl spoke of a " historical day for the Norwegian hand ball port ". And Cheftrainerin Marit Breivik stressed: " it became also finally time. "
The awake separation in the north had format. With that 24:16 in the final and with that 28:19 in the Vorrunde were nevertheless played neighbour Denmark, olympia winner and world champion, equivalent twice formally to the wall. The Norwegian zauberten seven sovereigns of victories on the parquet.
Since 1994 ex-Nationalspielerin Marit Breivik (140 international matches) with the crew co-operates. The team got a Kick before two years with the experienced CO coach Arne Hoegdahl, which before already cared for Austria. It went only uphill, but the quite large break-through never succeeded despite second workstations with Olympia, EM and WM.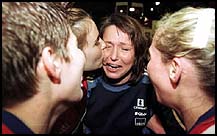 "In two years we are so far ", Hoegdahl after the EM final 1996 had prophesied. Despite the two violation-conditioned rejects of Tonje the coach duo an athletic, play-funny and above all copy-strong team formed saying doing and Kari Solem.
The national coaches can draw thereby from the full one. In the 1937 the new generation sport possesses created Norwegian hand ball federation absolute priority. In 815 associations at present 105,000 members train. Two thirds of it are usually female under 17 years and. The first international match gave it 1946 against Sweden (5:2) and still on the field was played.
The woman hand ball with workstation three created the international break-through with the world championship 1986 in the Netherlands. Since then there was seven medals, but never a title. "Our new generation concept was recompenced now with the first title ", said Hoegdahl.
But the so far apparently unbeatable Danish neighbour takes two years before Olympia only one time-out. After Ulrik Wilbek the federation found the resignation from success coach for a long time no successor. Expectations were excessive in the surrounding field. Besides captain Anne Dorthe Tanderup withdrew, and the probably world-best Handballerin, Anja Andersen one, had health problems.
Coach January Pytlick carried solid work out in only eight months. " the gaps are not easy with such exception player inside to close ", determined he: " we return nevertheless. "