Norway crowned handball queens of Europe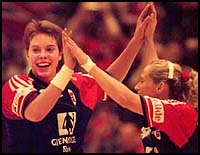 After five unbeaten preliminary matches, a semi-final showdown with Hungary and a 24 points to 16 win over Scandinavian rivals Denmark on Sunday 20 December, Norway 's women truly earned the right the be called European Champions.
In front of 1,500 spectators, Norway finally set the seal on a highly successful tournament. On their way to the title the Norwegians had scored 189 points and conceded 140.
After finishing top of group B, the Norwegians had a day off to re-charge their batteries for a semi-final match against Hungary who had finished runners-up of Group B.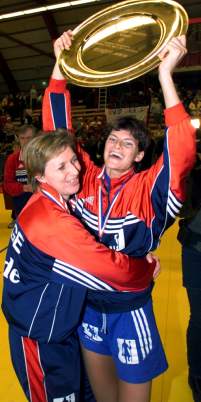 At half-time the Norwegians were 13-8 in the lead, and they eased into the final coming out 28-14 winners at the end, with Grini (9) and Haltvik (6) top scoring for Norway.
The second semi-final which pitted Austria (top of Group A) against Denmark (runners-up Group B) was by half time a one-sided affair, with the Danes 22-9 in the lead. The Austrians managed to reduce the points deficit but they still ran out 24-35 losers.
The final once again saw Norway ease into a half-time lead. This time they led 13-7 at the halfway stage and the result was never in doubt against a team they had beaten (28-19) in the preliminary round.
Hungary won the third/fourth place play-off, beating Austria 30-24.
The final match:
NORWAY: Tjugum, Leganger - Larsen (1), Grini (5/3), Eriksen (2), Sorlie (7), Hausmann (1), Hundvin (3), Davidsen (2/1), Haltvik (3), Tuven, Hilmo.
DENMARK: Sunesen, Lauritsen - Fruelund, Camilla Andersen (1), Vestergaard, Moberg (2), Hansen (1), Johannesen (1), Kiaerskou (3), Kjaergaard (3), Kristine Andersen (2/1), Brodsgaard (3).
Arbitres: Pendic/Majstorovic (Yugoslavia)
Spectator: 3.000 (sells off)
Punishing minutes: 6 / 0
With 67 goals the Austrian Ausra Fridrikas named first scorer in handball European championship 1998.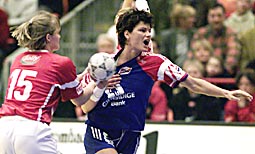 The ALL star team: Cecilie Leganger (Norway), Sabina Soja (Poland), Janne Kolling (Denmark), Tonje Kjaersgaard (Denmark), Camilla Andersen (Denmark), Ausra Fridrikas (Austria), Kjersti Grini (Norway).
PHOTO: Norwegian player Kjersti Grini fights for the ball with Danish player Tonje Kjaergaard during their women's European handball Championship Final in Amsterdam, December 20 - Photo by Jerry Lampen REUTERS